Nothing says, "play with me" more than simple primary colors.  From crayons to cars, kids are drawn to the bright colors found in the rainbow.  Inspired by a picture she saw online, Shirley of Motivated Mommy of Two, put her talented painter dad to work to create a truly colorful playroom.
While bold, the bright colors really resonate with her kids who love to play in the playroom.  Recently, Shirley accomplished something on just about every parents "to-do" list, she completely reorganized her playroom.  To read more about Shirley's playroom and she organized it, click here.
For the rest of us, who may not be as brave as Shirley, there are countless other ways to bring the primary colors into a play space.  Artwork is an easy way to add a pop of color to a white wall.  Even simple designs, such as these by Cammy Stenavich, can inspire kids to play and learn.
For older audiences, these Dr. Seuss quotes, made by
"breadingfancy"
on etsy, add color while building confidence.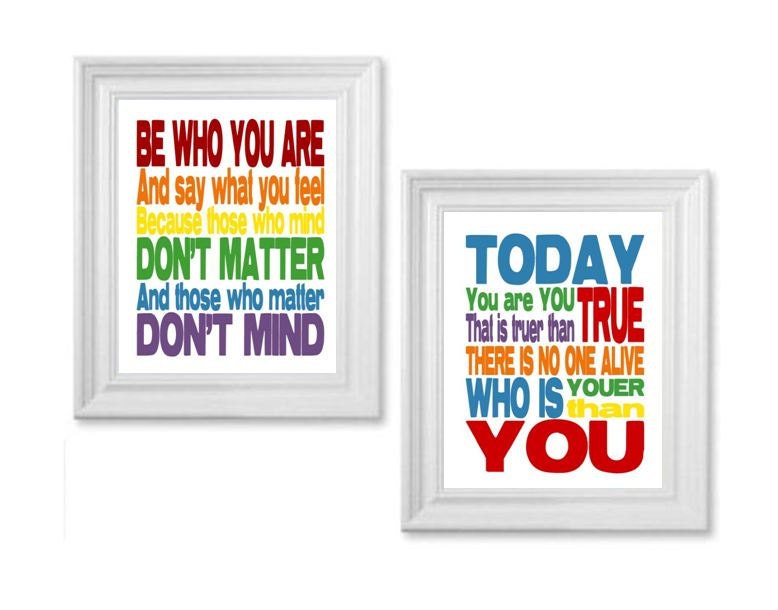 Need a place for your Dr. Seuss books, try this (
Tot Tutors Book Rack
) forward-facing bookshelf for a splash of useful color.
Or how about a quick pop of color?
RoomMates Just Dots Primary Colors Peel & Stick Wall Decals
Need a place to sit.  This KidKraft table includes a storage bin along with two benches.
KidKraft Table with Primary Benches
Color coded storage bins is also a great way to help non-reading kids sort their toys.  These vegetable style storage bins are great find as they allow quick access to toys without the need for stubborn lids or the ability for kids to dump everything out all at once.
KidKraft Primary Wheely Trugs Storage Bins
Finally, this multitasking bench not only stores store, it provides a nice space for kids to sit and read.
Beck Children's Wooden Bench with Fabric Bins